TRUJILLO ALTO, Puerto Rico — There's no need for natural disasters or bad weather for Marta Rojas to lose access to electricity on any given day.
"We have to become fortune tellers to be able to cook or to do laundry before the power goes out," Rojas, 73, said in Spanish.
Rojas said many of her neighbors who have disabilities and need oxygen tanks to breathe have to rely on generators to power through unexpected outages, incurring expenses that many struggle to afford.
The generators' rumbling noise and strong gasoline smell are such constants they seem at times to take over Puerto Rico — even when adverse weather events aren't present.
Rojas, of Trujillo Alto, said she remembers a Puerto Rico where power outages were uncommon. But that changed when Hurricane Maria devastated the island's ailing and disinvested power grid in 2017, triggering the longest and biggest blackout in U.S. history.
Most of the roughly 3,000 people who died in Maria's aftermath died because of lack of electricity and the ensuing interruptions in medical and other services.
The grid hasn't yet been permanently rebuilt, so the patched-up grid still acts up, causing blackouts and brownouts when people least expect it.
"This is a matter of life or death, especially after Maria," said Ruth Santiago, a community and environmental attorney based in the southern town of Salinas.
Meanwhile, Rojas and other power customers in Puerto Rico have been subjected to seven electric rate increases over the last year, even though people in Puerto Rico already pay about twice as much as mainland U.S. customers.
A combination of such factors has prompted a growing number of Puerto Ricans to make the transition to renewable energy in the hope of finally having reliable power.
But currently, less than 4% of power generation comes from renewable energy. Puerto Rico is in a race to comply with local policies that 40% of electricity must come from renewable energy sources by 2025, with the goal of achieving 100% renewable electricity by 2050.
In San Juan, Víctor Santana installed rooftop solar panels on his home over a year ago. Santana said that his electric bill has gone down considerably and that he even received a $600 credit last year for producing more energy than he consumed.
More important, Santana said, he had power in September during Hurricane Fiona, while most of Puerto Rico was in the dark. Fiona was the first hurricane to have directly hit the island since Maria.
Santana and 20 other families in his University Gardens neighborhood came together to make the transition to renewables with the help of CAMBIO PR, a nonprofit group that promotes more energy sustainability and helps make the process less costly.
More than 45,000 rooftop solar systems have been interconnected into Puerto Rico's electric grid over the past two years, more than in the previous decade, Gov. Pedro Pierluisi said.
Ingrid Vila, the president of CAMBIO, said the Puerto Rican government is claiming "as its own achievement that many individuals have made the transition to renewables, when in reality it was something they did on their own."
Since Maria, many Puerto Ricans with the means to move to renewable energy have done it, Vila said.
"But that's not most people," Vila said. "That's why we want to make sure federal funds are used to help the most vulnerable, low-income people, so they can also benefit."
According to Pierluisi, $1.1 billion in federal housing funds granted to Puerto Rico after Maria will be used mostly to install solar panels and batteries in 30,000 low- and medium-income homes.
An additional $1.3 billion will be used to develop microgrids, including one to power Centro Médico, the island's main hospital.
In December, Congress approved $1 billion in additional funding to install rooftop solar and battery storage systems in 40,000 homes in the most impoverished, low-income communities on the island.
Preliminary findings of a community-driven study known as PR100 from the Energy Department, funded by the Federal Emergency Management Agency, found that Puerto Rico has enough renewable energy resources to produce 10 times the power it needs.
Puerto Rico should prioritize rooftop solar systems and microgrids to reach its renewable energy goals instead of building large-scale solar farms that might put agricultural and protected lands at risk, according to the study.
In Salinas, one of the island's most contaminated towns, the environmental ripple effects of a large-scale solar farm are already taking a toll on communities, Santiago said.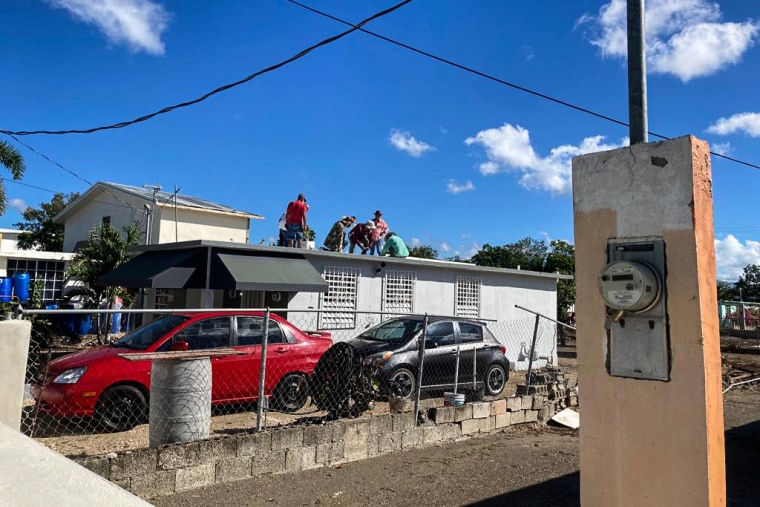 "The way in which topsoil gets removed from the land alters water courses. It doesn't just affect rustic agricultural land. It affects flood levels in a town that's prone to floods," Santiago said, adding that a second large-scale solar farm is being built.
Solar farms may be useful to provide renewable energy to people who live in condominiums or in homes with roofs unfit for solar panels, said Carlos Alberto Velázquez, a program director with the Interstate Renewable Energy Council.
"But what we can't do is build these systems in lands that are ecologically important or have agricultural value," Velázquez said. "Food security is as much or even more important than energy security."
According to Pierluisi, 18 large-scale solar farms are being built or are in the planning stages in Puerto Rico.
In the middle of two solar farms and a coal-burning power plant in Salinas, Santiago and other community members in the El Coquí region have installed over 25 solar panels in homes and public areas.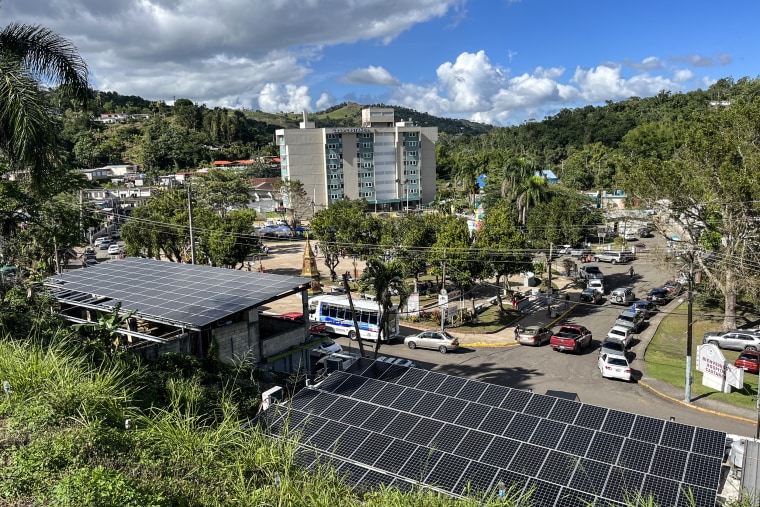 Velázquez is part of the team at the Interstate Renewable Energy Council, an organization promoting a transition to clean energy, which inaugurated a microgrid last summer in Castañer, a community in the mountainous town of Lares.
The PR100 study found that microgrids and smaller distributed systems improve the overall resiliency of the island's power system, mainly because it recovers more quickly after disasters.
"With the same enthusiasm the government signs off on 18 large-scale solar farms," Velázquez said, "they should also sign off on hundreds of microgrid projects."
"We've seen microgrid pilot projects work over and over. They need to become the norm," Velázquez said, adding that work is underway to build another microgrid in the town of Maricao.
With permanent reconstruction of the devastated power grid on the horizon, Santana is grateful he has made the transition to solar. He expects outages may only increase, as they have lengthened and occurred more often in recent years.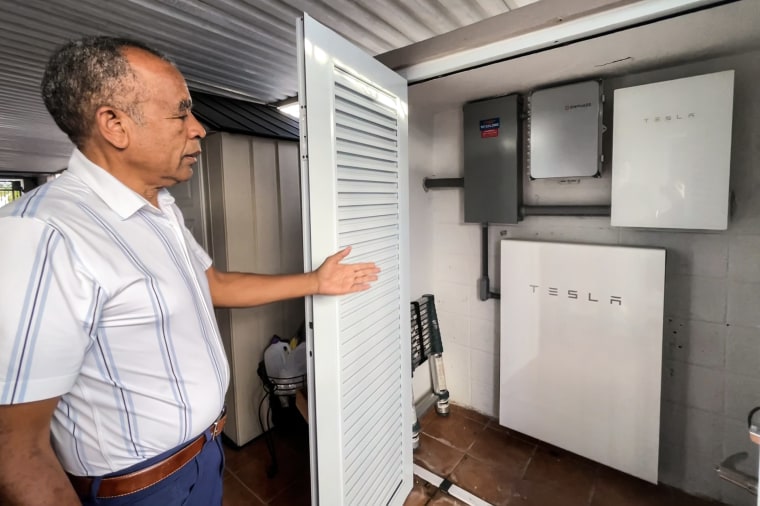 Government officials have said the ongoing privatization of the power grid under Luma Energy and the recently announced Genera PR partnership will improve electric services.
They have respectively taken over the island's power transmission and distribution system and its power generation units, which have been owned by the Puerto Rico Electric Power Authority, the bankrupt public corporation that was solely in charge of generating energy on the U.S. territory.
Luma Energy has said it has reduced outage frequency by 30% over the past year and has 251 federally funded projects to permanently rebuild the patched-up grid after hurricanes Maria and Fiona.
'Our patience is running out'
Luma is expected to submit a proposal about how it plans to permanently rebuild Puerto Rico's power system which will go through a public comments period, hearings and approval by the island's Energy Bureau.
"Realistically, our system can be rebuilt one more time within our lifetime," Velázquez said. During that process, people must advocate for the most integration of renewable energy in our system, "unless we want to wait 20 more years to ramp it up."
Genera PR is expected to formally start operating in July. It has a 10-year contract to operate, maintain and decommission the power generation units on the island, which are on average about 45 years old and rely mainly on fossil fuels.
As Puerto Rico looks to make the transition to renewable energy, Genera PR will help "provide meaningful cost savings for consumers and businesses, improve reliability and reduce the environmental impact of an aging thermal generation system," Wes Edens, the chairman and CEO of Genera PR's parent company, New Fortress, said in a statement last week.
Vila worries Genera's 10-year contract is "going to set us back in our move towards renewables, because, essentially, we're going to be extending the life of these fossil fuel plants."
In Trujillo Alto, Rojas is part of a group of over 30 people planning to collectively buy rooftop panels through a cooperative with the help of CAMBIO and other groups.
Rojas said their goal is to get 60 people to join the effort.
Read the full article here